An Interview with Director Andel Sudik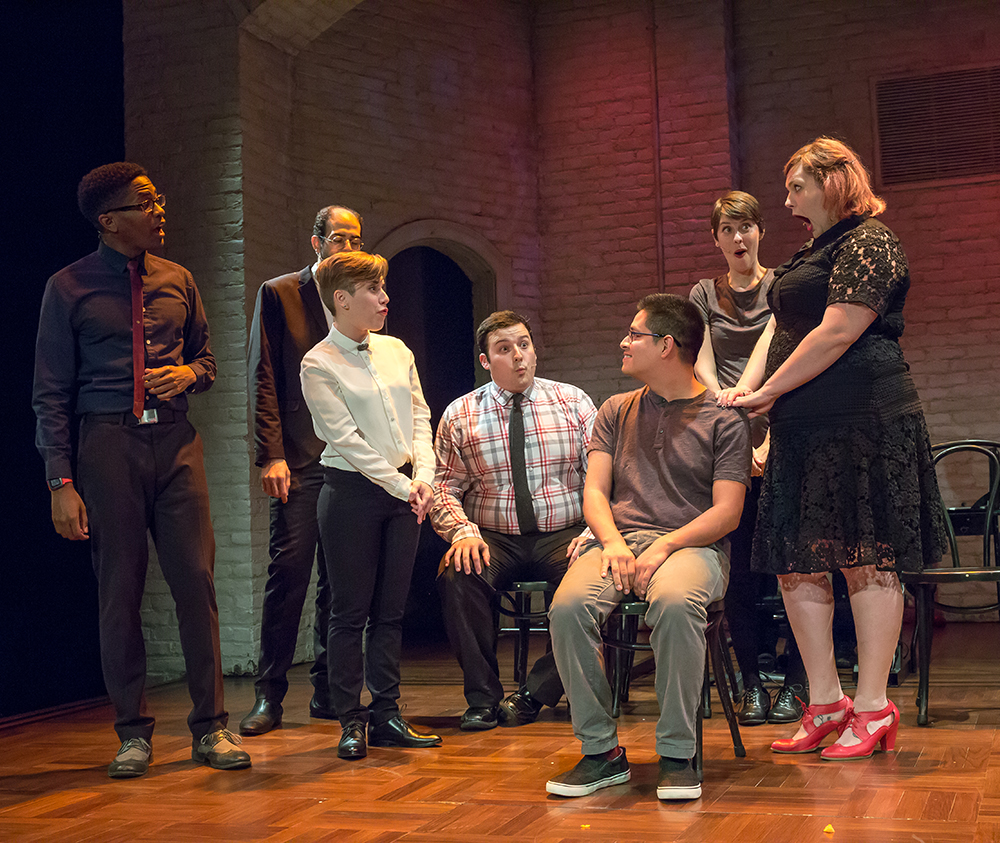 Director Andel Sudik took a moment during the rehearsal process to discuss The Second City's
Holidazed & Confused Revue
.
You were here, as a cast member, for the Playhouse's world premiere production of The Second City Does Cincinnati: Pride and Porkopolis in 2010. Do you have any memories/anecdotes of that production, as well as our audiences, that you can share?
The theatre was gorgeous and the audiences were warm and intimate. The last night we were in town arrangements were made to open The Precinct 15 minutes early so we could have a big cast dinner after our matinee and make it just in time for our evening show. We ate our weight in steak and performed our final Cincinnati show sweaty and full. Cincinnati was also the first place I ever bought winter boots. I had lived in Chicago for 10 years and never had them. But once the weather turned I couldn't walk in Mt. Adams without falling down, so I ordered winter boots and discovered that if you have the right shoes winter isn't (entirely) unbearable. So basically Cincinnati changed my life.

According to your website, you have really enjoyed making the switch from being a cast member to directing and teaching improvisation to others. Can you tell us how the focus changes from performing to directing?
I love performing. I love the audience applause and laughter and feeling like I'm allowing people to leave behind their lives for a bit and share an experience. As a director I get to do those same things and, ideally, also give my actors a chance to unlock parts of themselves in the process. I love the challenge and I think my experience as an actor helps me understand what a vulnerable process it is to create comedy and survive in our business. I love directing sketch comedy and improvisation because it's like a puzzle in which the pieces keep morphing as you put them down, and eventually you've helped foster creativity and created something entirely different from what you set out to do.
How does one go about directing improv (as opposed to a set script)?
When you direct improvisation you're more of a coach looking at what's working and playing from a place of abundance. Everything is on the table. Then when you start crafting that improvisation into sketch you start focusing the ideas, deciding what is important or funny and making specific choices. Ultimately you tighten and work it like a script. Because Second City does a mixture of improvisation and written material it requires a lot of trust.
What excites/interests you most about improv as an art form?

I first saw improvisation on the Santa Monica Pier when I was in high school. A group of Second City alumni got together to jam on Wednesday nights in what I can only describe as an abandoned restaurant. I paid five bucks and got to watch magic created out of nothing (they would split into three groups, each taking one suggestion and creating a 30-minute piece based on that suggestion). I still remember lines from those shows more than 15 years ago. Those moments of creation and collaboration, of getting rid of ego and creating for the sheer joy of it, are what excite me. Watching people who know each other so well that they set up their friends for success and rejoice in it despite how very different they are. Those are the things I'm most excited for and the moments that remind me why I started doing this and why, despite the noise of our world, I still do.
Do you have a holiday story that you can share that perhaps influenced this production in some way?
The week that I joined this company as director I was held up at gunpoint on my way home from the first show I directed them in. In the week that followed I have never more keenly felt the holiday spirit. The holiday spirit, the human spirit, is that no matter how bad things are, we are here to take care of each other. I believe that's what the holidays remind us of at their best and what they challenge us with at their worst. That experience happened as we started putting this show together, so it certainly inspired our process, if not the content. As Charlie Chaplin said, "To truly laugh, you must be able to take your pain and play with it."
Is there anything else you want to add?
This cast is really unbelievable. Fun, funny, wonderful people. I'm so glad the Playhouse will get to have them this winter and so happy they'll get to experience the Playhouse.
To learn more about the Playhouse production of The Second City's
Holidazed & Confused Revue
, visit the
production detail page
.
Photo of the cast of The Second City's Holidazed & Confused Revue by Mikki Schaffner.