5 Questions with Jefferson A. Russell
Jefferson A. Russell is a former Baltimore police officer turned professional actor who makes his Cincinnati Playhouse in the Park debut as Shealy in August Wilson's
Jitney
. Meet Jefferson, and discover why he's drawn time and again to August Wilson's acclaimed American Century Cycle.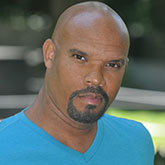 Regional credits include shows at Round House Theatre, Woolly Mammoth Theatre Company, Dallas Theatre Center/Goodman Theatre, Theatre J, North Carolina Shakespeare Festival, Hangar Theatre, Folger Shakespeare Library, Everyman Theatre and Marin Theatre Company, as well as work with The John F. Kennedy Center for the Performing Arts' national tours, Eugene O'Neill Theater Center, Ford's Theatre, Shakespeare Theatre Company and Gulfshore Playhouse. Jefferson is a founding member of GALVANIZE, a network for artists of color.

How long have you been acting, and what's your favorite part of the job?
I've been acting really since my freshman year of college. I attended Hampton University in Virginia and was in several productions throughout my four years there, though my major was sociology/criminal justice. I graduated and went back home to Baltimore, where I became a police officer. Once I was there, I started performing at Arena Players, the nation's oldest continuously operating African-American theatre. Professionally, I've been acting since 1997 and got my Equity card through my first Kennedy Center national tour in 1999. One of the best parts of my job is to be able to inhabit different types of people from all walks of life, looking at the world through their perspectives.
What is your all-time favorite role you've performed, and why?
Tough one to answer, but two easily come to mind:
Citizen Barlow from
Gem of the Ocean
— He is a man that is seeking redemption and direction externally, only to find out that what he seeks is already within him and stretches back to those who came across the Middle Passage from Africa. Citizen, to me, represents the black man's journey in this country.
Memphis Lee from
Two Trains Running
— He owns a restaurant in the fading Hill District of Pittsburgh and is very much his own man. He represents the "American Dream," and the hopes of those who went north through the Great Migration in that he's come from the South with very little and worked hard throughout many challenges to achieve what he has. So when he's notified that his property will be taken by the city due to eminent domain, he's determined to fight. And then he's determined to sell for HIS price, not the nominal price that's offered. Memphis is a proud man who personifies self-determination, dignity and respect in those who have historically been denied it. And I also love how Mr. Wilson connects many of his plays by mentioning characters from other plays. Memphis of T
wo Trains Running
and Jim Bono from
Fences
are both mentioned in
Jitney
. A priceless nod to the connectivity of us all through the Black experience in America.
What role have you been dying to play, and why?
At some point as I get older, I hope to walk with Troy Maxson in
Fences
. He's such a challenging, proud and complex man who is rich in flaws and virtues, humor and pathos.
What is your experience with August Wilson's plays? What do you like most about performing his work?
I've performed in five plays out of the 10 in the cycle:
Jitney
(Shealy),
Two Trains Running
(Memphis),
The Piano Lesson
(Avery),
Fences
(Gabriel) and
Gem of the Ocean
(Citizen Barlow). I love how compelling the language of Wilson is and how the stories are both epic and yet very personal. What has been the most interesting part of working on this production of
Jitney
with director Timothy Douglas so far? I have found Mr. Douglas to be very intuitive as a director connecting with his actors. He understands that all actors have their own different approaches and processes to the work, and he's quite respectful of that. But he also has a very particular and interesting way of working. His rehearsal room is loose and open; a safe, trusting space for us to create. One that honors all that we bring as artists and is focused on the important work before us. In that safe space, we have had some very honest conversations about what it means to be black in America during this era, when seemingly week to week we are exposed to innocent people, most often African-American, killed by uniformed representatives of a long-failed, biased system. We've discussed how important these stories are that exhibit, in full display, all aspects of our humanity, because, unfortunately, it seems that America is desperately in need of that reminder.
To learn more about the Playhouse production of August Wilson's
Jitney
, visit the
production detail page
.
Photo of Jefferson A. Russell and Michael Anthony Williams in August Wilson's Jitney by Mikki Schaffner.