The writer shares artistic insight into crafting this enormously entertaining stage comedy.
Presented by Leading Ladies, Destiny of Desire is an enormously entertaining switched-at-birth comedy and homage to Latin American telenovelas. It is written by Playhouse Associate Artist Karen Zacarías, author of The Book Club Play (produced at the Playhouse in 2013) and Native Gardens (produced as its world premiere at the Playhouse in 2016). Below are her notes about writing Destiny of Desire.
---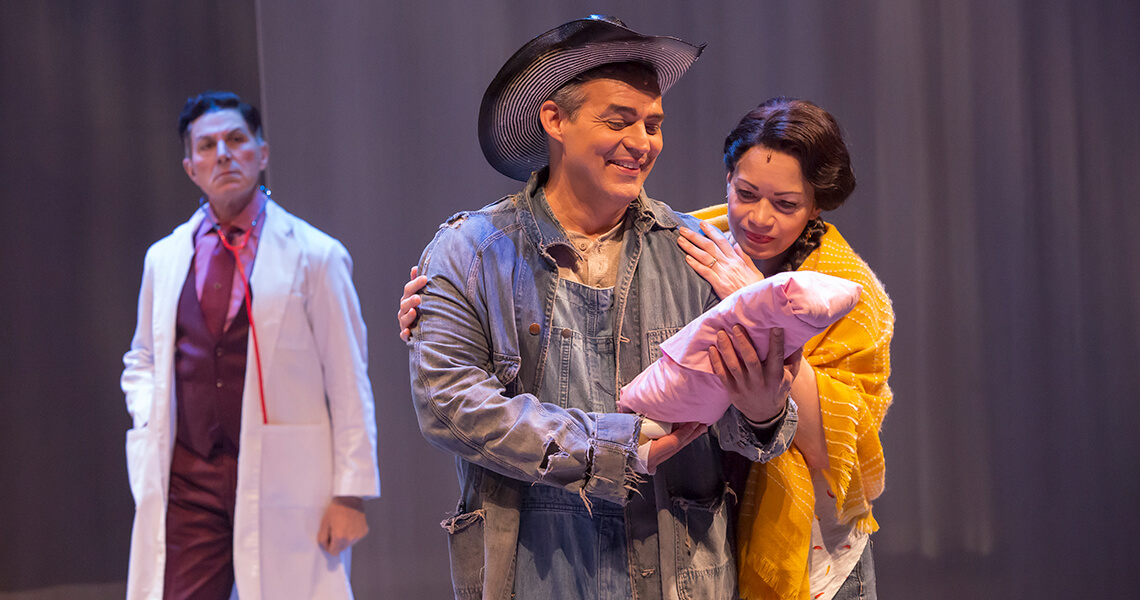 Mark Torres, Ruben Flores and Yassmin Alers in Destiny of Desire. Photo by Mikki Schaffner.

Telenovelas, whether you watch them or not, seep into the daily life of most Latin Americans. When my family emigrated from Mexico to the United States, telenovelas seemed destined to become a thing of my past. Except that Americans were just as obsessed with telenovelas as my country's men and women.
General Hospital and One Life to Live were dominating the ratings by day. In Mexico, a telenovela lasts about six months. They have an arc with a beginning, middle and end. Each episode is an explosive storytelling event. American daytime soap operas inched along with people crying while drinking coffee. The way the U.S. public reacted to "Who Shot J.R.?" was much more in line with the palpable power of telenovelas back home.
As a playwright that grew up in Mexico, I wanted to introduce U.S. audiences to stories that humanized and universalized my people. I began to notice that critics used the word "telenovela" to erroneously describe a lot of work written by Latina writers.
So, I decided to write the best stage telenovela I could… to show what a telenovela really is. I wanted to examine my own ambivalent feelings about this popular and populist art form and both honor and test the genre. I wanted to give a large cast of Latinx actors, musicians, designers and directors an opportunity to show virtuosic chops. I wanted the play to be aesthetically beautiful and full of music (the melo of melodrama).


Ruth Livier and Juan Luis Acevedo in Destiny of Desire. Photo by Mikki Schaffner.


Writing Destiny of Desire became for me a subversive, political and artistic act… and I've never had more fun in my life.
I created a Brechtian epic theatre frame around the melodrama to give the play context and sharpness. The actors create the story and are also the audience getting pulled into the story. No matter how crazy the antics get on stage, there are funny or sobering facts that ground the plot and connect it to life in the U.S. In the tradition of Brecht's poor theatre, all the scenery is moved by the actors — a reminder that theatre is powered by human muscle and can be done anywhere with any type of budget. Imagination is our biggest theatrical element: A piece of cloth becomes a desert, a door becomes a church, our white horse is a red bicycle.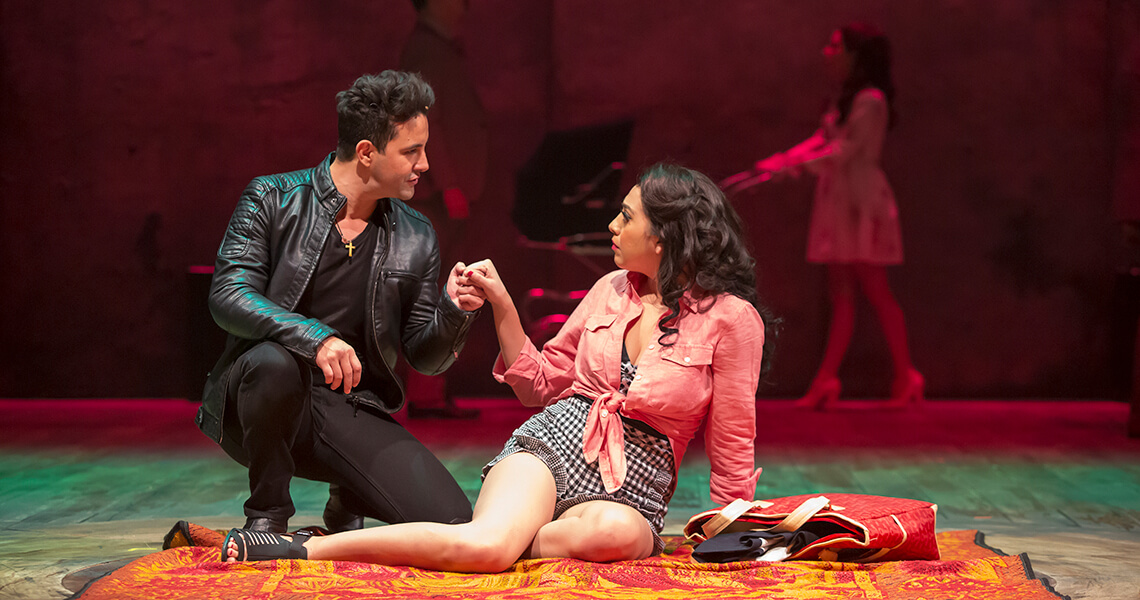 Eduardo Enrikez and Esperanza América, with Juan Luis Acevedo and Elia Saldana (background), in Destiny of Desire. Photo by Mikki Schaffner.

I am lucky enough to work with Master Director José Luis Valenzuela since the beginning, and I couldn't be more excited to share this work with Blake Robison and Cincinnati Playhouse in the Park audiences who have been so welcoming to me with The Book Club Play and Native Gardens.
Anything is possible in Destiny of Desire… and in the theatre.
To learn more about the Playhouse's production of Destiny of Desire, presented by Leading Ladies, visit our production detail page.
Photo at top of Esperanza América and Elia Saldana in Destiny of Desire by Mikki Schaffner.